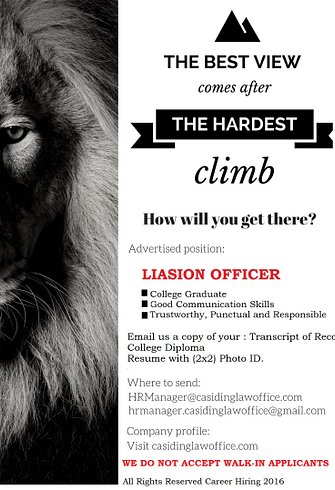 Casiding Law Office is a great place to work, grow and thrive.
We believe in upholding the firm's core values, Service with Commitment, Integrity and Effectivity.
Casiding Law Office accomplish this by emphasizing the importance of leadership and the essence of teamwork.
We are always interested in receiving resumes from excellent and committed individuals interested in joining our expanding team.
To apply, please send your updated curriculum vitae with recent photo to:
HRManager@casidinglawoffice.com
hrmanager.casidinglawoffice@gmail.com
Shortlisted candidates shall be notified of interview schedule.
For proper management of hiring procedures, we will not entertain walk-in applicants.
Fresh Graduates are encouraged to apply.